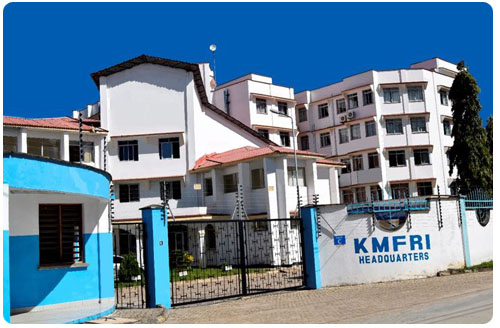 Mandate of the Institute
Kenya Marine and Fisheries Research Institute (KMFRI) is a State Corporation established in 1979 by the Science and Technology Act, Cap 250 of the Laws of Kenya, which has since been repealed by the Science, Technology and Innovation Act No. 28 of 2013 which has recognized KMFRI as a national research institution under section 56, fourth schedule. KMFRI's mandate is to undertake research in "marine and freshwater fisheries, aquaculture, environmental and ecological studies, and marine research including chemical and physical oceanography", in order to provide scientific data and information for sustainable development of the Blue Economy.
To fulfill this mandate, the Institute has defined its vision, mission and core values as follows:
Vision
A Centre of Excellence in innovative research in marine, fisheries and the Blue Economy for development
Mission
To generate and disseminate scientific information for sustainable development of the Blue Economy.
Core Values
To fulfil her mandate and realize its mission, the operations of KMFRI will be guided by the following core values:-
Integrity,
Transparency and accountability
Professionalism
Team work
Equity and equality
Specifically, the roles of KMFRI according to Legal Notice No. 7 of 1979 are to: 
Conduct multidisciplinary and collaborative research on fish ecology, population dynamics, stock assessment and general aquatic ecology;
Collect and disseminate scientific information on fisheries and other aquatic resources and related natural products;
Study and identify suitable species for culture including development, adoption and transfer of rearing technology and procedure;
Study chemical and physical processes that affect productivity of aquatic ecosystems;
Monitor water quality and pollution in fresh and marine water environments;
Carry out socio-economic research on aspects relevant to fisheries, environment and other aquatic resources;
Establish a marine and freshwater collection for research and training purposes;
Offer training facilities to aquatic scientists;
Conduct research on fish quality control, post harvest preservation and value addition technologies and
Conduct research on blue economy.